Stone Labs is committed to helping any business with our IT Consultancy and Custom Solution Development. We do specialize in helping sports and travel companies, but give us a problem that needs to be solved with technology, and we'll build a solution. Our solutions help improve sports results across several different athletic realms. We like focusing on the sports industry, because according to this article, it's a $1.3 trillion industry!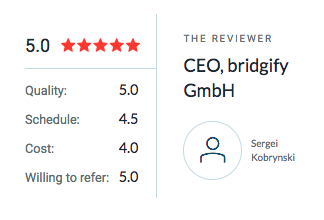 We know our technology development helps our clients improve their businesses and organizations, and we wanted a way for our clients to share their success with Stone Labs to all who are seeking help. That's why we've joined Clutch!
Clutch is a rating and review website for development companies and other business service firms. Clutch ranks companies based on the client reviews they collect. The reviews are gathered by a 10-15 minute phone call and are packed with so much information about the project that was done for the client. So far, we've got two reviews on our Clutch profile as we only have recently joined their platform! That being said, these two were great case-study style reviews and we are so excited to have them on Clutch. Our most recent reviewer, the CEO of a POS company had some great things to say about our commitment to his project. He said,
"They were willing to work overtime if necessary."
And went on to say,
"They were very dedicated and reachable."
Another reviewer, a project manager at a sports training company, was really happy with how we operated and dealt with him as a customer. He said,
"Their business administration, project management, and communication are a breath of fresh air."
As said before, we're relatively new to Clutch's platform, but we plan to get more of these quality reviews through their website in the near future. Even with only two reviews on Clutch we already rank on the 4nd of out of over 59 developers on their directory of top development companies in Lithuania.
If you're interested in having Stone Labs build you an awesome IT solution or web platform, we encourage you to go on our website to read our previous projects and check out the work we've done for our satisfied clients. Of course, also check out our Clutch profile.